If you are a welder or have a passion for welding, why not incorporate it into your baking adventures? Welding cake decorations can add a unique touch to your desserts, turning them into edible works of art and giving your sweet treats a touch of your favorite craft. With a little creativity and the right tools, you can create stunning welding-themed cake decorations that will surely impress your friends and family.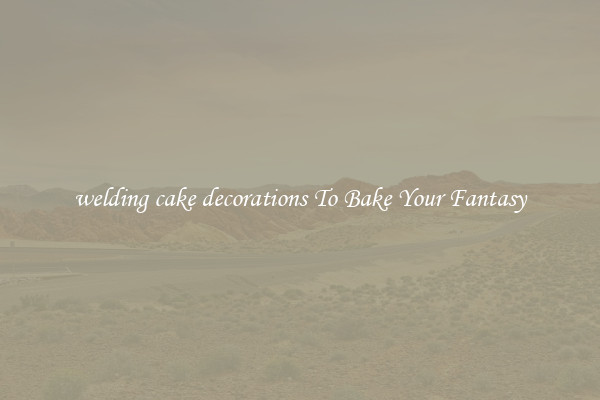 To start, gather your baking essentials including cake mix, frosting, and various decorating tools. The key to creating welding-themed cake decorations is to replicate the look of metal and welding techniques on edible materials.
One idea is to create mini welding tools out of fondant or gum paste. Roll out a small piece of gray or silver-colored fondant and shape it into the desired tool, such as a welding torch or helmet. Use food coloring to add details like red and yellow flames or a darkened visor to the helmet. Once the fondant or gum paste has hardened, carefully place your miniature welding tools on top of your frosted cake.
Another idea is to create edible welds using white chocolate or modeling chocolate. Melt the chocolate and use a piping bag or a small food-safe brush to apply the melted chocolate in weld-like patterns onto strips of parchment paper. Let the chocolate harden, then carefully peel off the chocolate welds from the parchment paper. These can be used to adorn the sides of your cake or to create a border for your cake layers.
For a three-dimensional effect, consider making a fondant sculpture of a welding scene. Start by molding a base using colored fondant or modeling chocolate. Then, sculpt miniature figures of welders wearing protective gear, welding machines, and other elements of a welding workshop. Paint the figures using edible food coloring to add depth and dimension. Once your sculpture is complete, place it on top of your cake or use it as a cake topper.
To take your welding-themed cake decorations to the next level, try incorporating other elements like nuts, bolts, and gears made from edible materials. Use silver or gray fondant or candy melts to create these mechanical details and strategically place them around your cake.
Creating welding cake decorations allows you to combine two passions in a truly unique way. Whether you are celebrating a birthday, retirement, or simply want to show off your creativity, these decorations will surely impress anyone who sees - and tastes - your creations. So, grab your tools and get ready to bake your fantasy welding cake!